Granite Bridge Saws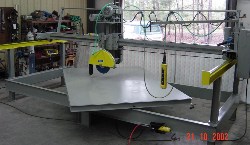 Granite Bridge Saws by Johnson Machine are US made bridge saws designed for cutting granite countertops from granite countertop slabs. The JM6 diamond granite saw features a 15 hp motor, blade diameters of 16"-24", has a cutting length of 12', variable AC power control, and optional hydraulic tilt table. For larger jobs, the JM8 series is available with a 20 hp motor with blades 24"-30" in diameter, also available with standard table shown at left or hydraulic tiling work table shown in the photo above. Other options include auto gantry step to next cut, safety switches on carriage and gantry, overload relay cut off switch, water safety to cut machine off if water is cut off, and laser guide.
Granite Bridge Saw Details & Specifications
Granite Post Saws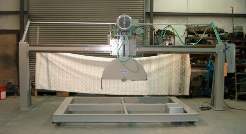 Granite & Stone Saw, Post Type with 28"-36" diameter diamond blades designed for cutting granite or other stone. Available in two sizes, Model JM6P features 15 hp motor and up to 28" diamond saw blade and has a cutting length of 10' 6". The Model JM8P features 30 hp motor, and up to 36" diamond saw blade and has a cutting length of 12'. Other features and options include variable AC power control, and motorized cart, power cart controlled by push button, push cart, panel with auto step cutting feature & Laser guide.
Granite Post Saw Details & Specifications.
Core Drilling Machines

Core Drill Machines by Johnson Machine are heavy duty electric core drill machines used primarily for granite core drilling, but can be used for any core drill operation. Our special diamond coring machines are constructed of heavy structural steel, and the frame is welded to insure maximum stability and rigidity. Complete water and hydraulic systems are built into the core drill machine and need only be connected to the source. Each core drilling machine is self-contained with motors and controls wired in ready to operate from customer's fused disconnect. The core drilling operations may be controlled as desired by the operator. All electrical and hydraulics are located for operators convenience with built in controls. Variable pressure assures fast, economical, and clean operation. Core Drill Machine Details & Specifications

Granite Countertop Polishers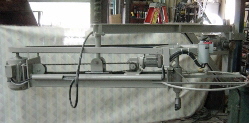 Radial Arm Granite Polishing Machine by Johnson Machine are US made granite and marble polishing machines designed to work with granite polishing wheels up to 18" in diameter. These machines are intended for grinding and polishing granite countertop slabs, granite or marble monuments, or other stone polishing operations. The polisher totally enclosed Timken and pillow block bearings for long life and ease of use. Main drive motors are 2.5-5 hp. The polishing head has a vertical lift capability of 4 feet and is powered by a 3/4 hp motor.
Polishing Machine Details & Specifications
Quality Machinery for the Construction and Granite Industry
Johnson Machine Shop, Inc. manufactures and sells the very best stone industry machines available. We specialize in stone and granite industry bridge and gantry saws, granite countertop and granite monument polishing machines, and granite and stone core drilling machines.
Johnson Machine diamond saws include the JM6 and JM8 saws featured on the granite bridge saw page, or can be custom ordered for larger granite or stone cutting operations. The diamond bridge saws are primarily used for cutting granite countertop slabs or monument shaping, but can be used for many other types of work. These saws are sometimes referred to as diamond saws, bridge saws, gantry saws, monument saws, stone saws, slant saws or granite saws. All the saws have optional features that can make your granite cutting job easier, like hydraulic tilting tables, remote power controls, easy turn tables and other features.
Our granite polishing machines and radial arm polishers for granite monument design or countertop fabrication are one of the best investments you can make if you are in the granite monument or granite countertop fabrication business. Our polishers are proven to be long lasting, efficient and easy to use. These machines are sometimes referred to as granite polishing machines, granite polishers, radial arm polishers, granite monument polishers, marble polishers, stone polishers, granite countertop polishers, monument polishers, memorial polishers, and hand granite polishers.
Johnson Machine core drill machines for granite monuments, diamond core drills for granite memorial fabrication and core drill machines for concrete coring are the best quality available. Sometimes called diamond drills, rotary drills, stone core cutters, granite drills, or concrete core drills, these machines will last for years, making your core drilling investment pay for itself over and over again. These core drill machines are not light weight portable core drills, but are heavy duty core drilling machines intended for high volume, year in and year out granite and stone production.
Get the latest Granite Industry News at the Johnson Machine Shop News Page.
johnson Machine Shop, Inc.
1382 Old Middleton Road
Elberton, Georgia 30635
Get Driving Directions Here
Phone 706-283-5750
E-mail jmshop@elberton.net